How did the Silicon Valley Cartel create a monopoly and black-listing blockade against small inventors? See more at: https://usinventor.org/
Salvatore Pais (Above) has been verified to be working for government research projects. His patents are world famous. A number of groups have built his designs…
And then there is "Stargate"  :
https://www.thesun.co.uk/news/2645757/cia-uri-geller-stargate-project-classified-documents-released-declassified/

That time I got invited to help with a 'test' at SRI…
The CIA Recruited 'Mind Readers' to Spy on the Soviets in the 1970s
Project Star Gate operated between 1972 and 1995 and attempted to offer, in the words of one congressman, "a hell of a cheap radar system."
During the tense period of the Cold War, the U.S. government sought to deploy a potent new weapon against the Soviet Union: mind-reading.
In a highly classified project conducted first in a California research lab in the 1970s, and later at an Army base in Maryland, the CIA, Army and Defense Intelligence Agency recruited men and women claiming to have powers of extrasensory perception (ESP) to help uncover military and domestic intelligence secrets.
In 2017, the CIA declassified some 12 million pages of records revealing previously unknown details about the program, which would eventually become known as Project Star Gate. By the time the program was shut down in 1995, psychics known as "remote viewers" had taken part in a wide array of operations, from locating hostages kidnapped by Islamic terrorist groups to tracing the paths of fugitive criminals within the United States.
The roots of Project Star Gate go back to 1972, when a classified report made waves within the U.S. military and intelligence communities by claiming that the Soviet Union was pouring money into research involving ESP and psychokinesis—the ability to move objects with the mind—for espionage purposes. In response, the CIA began funding its own top-secret research, headquartered at the Stanford Research Institute in Menlo Park, California.
Read more: The CIA's Appalling Human Experiments With Mind Control
Psychic Uri Geller led ESP investigations.
Late that year, the research team at SRI invited Uri Geller, an ex-Israeli paratrooper who had become internationally famous for his psychic powers, to Menlo Park for testing. Though Geller was best known for his alleged ability to bend metal cutlery with his mind, the CIA was much more interested in another of his professed skills: the ability to read other people's minds, and even control their minds with his own.
As Annie Jacobsen writes in her book Phenomena: The Secret History of the U.S. Government's Investigations into Extrasensory Perception and Psychokinesis, the declassified documents show that CIA analysts wanted to probe Geller's abilities in the area of "mind projection" and its possible use for national security purposes.
According to Jacobsen, Geller played a key role in setting into motion the U.S. government's investigation into ESP and psychokinesis. In the winter of 1975, she writes, Geller even took part in a series of classified psychokinesis tests at a lab in Livermore, California, where scientists were developing advanced nuclear warheads, laser systems and other emerging weapons technologies.
The CIA shut down its work with ESP in the late 1970s, and the program moved to the U.S. Army's Fort Meade in Maryland, where it was funded by the Defense Intelligence Agency. Over the better part of the next two decades, Congress continued to approve funds for the remote viewing program.
"It seems to me a hell of a cheap radar system," Rep. Charlie Rose of North Carolina told fellow members of the House Select Committee on Intelligence during a meeting about psychic research in 1979. "And if the Russians have it and we don't, we're in serious trouble."
Psychics helped with top-secret programs.
Army veteran Joseph McMoneagle stood out among the remote viewers who worked with the government's top-secret program. As he later told the Washington Post, McMoneagle was involved in some 450 missions between 1978 to 1984, including helping the Army locate hostages in Iran and pointing CIA agents to the shortwave radio concealed in the pocket calculator of a suspected KGB agent captured in South Africa.
Another remote viewer, Angela Dellafiora Ford, was asked in 1989 to help track down a former customs agent who had gone on the run, she recounted recently on the CBS News program 48 Hours. She was able to pinpoint the man's location as "Lowell, Wyoming," even as U.S. Customs was apprehending him 100 miles west of a Wyoming town called Lovell.
Publicly, the Pentagon continued to deny it was spending money on any kind of psychic research, even as reports leaked out in the 1980s of the details of the government's experiments. Finally, in 1995, the CIA released a report conducted by the independent American Institutes for Research, which acknowledged the U.S. government's long-rumored work with remote viewing for military and intelligence purposes.
The report also declared Star Gate as a failure, arguing that "it remains unclear whether the existence of a paranormal phenomenon, remote viewing, has been demonstrated." Though the analysts acknowledged that some trials had been successful and that "something beyond odd statistical hiccups is taking place," they concluded that any information remote viewing had provided had been too "vague and ambiguous" and did not produce "actionable intelligence."
'Spidey sense' was investigated among Marines.
The shutdown of the program that year did not mark the end of the government's interest in psychic phenomena. In 2014, Jacobsen writes, the Office of Naval Research launched a four-year program (costing some $3.85 million) to explore the use of premonition or intuition—what is popularly known as a "sixth sense" or even a "Spidey sense," in honor of the web-throwing superhero—among sailors and Marines. And Dr. Edwin May, the former Star Gate research head, has continued to argue on behalf of ESP as a legitimate tool for military and domestic intelligence long after the program was shut down. In 2015, May told Newsweek that his most recent ESP study, funded by the non-profit Bial Foundation, "is probably the best experiment in the history of the field."
Whatever its use for espionage purposes, belief in the powers of ESP has a long-running history of support among ordinary Americans: According to a 2005 Gallup poll, 73 percent of Americans at the time believed in some kind of paranormal phenomena, with 41 percent of those polled saying they believe in ESP specifically.
CIA-Initiated Remote Viewing At Stanford Research Institute
by H. E. Puthoff, Ph.D.
Institute for Advanced Studies at Austin
4030 Braker Lane W., #300
Austin, Texas 78759-5329
This used to be at http://www.remoteviewinghistory.com/cia-remote-viewing-at-stanford-research-institute.html
Abstract – In July 1995 the CIA declassified, and approved for release, documents revealing its sponsorship in the 1970s of a program at Stanford Research Institute in Menlo Park, CA, to determine whether such phenomena as remote viewing "might have any utility for intelligence collection" [1]. Thus began disclosure to the public of a two-decade-plus involvement of the intelligence community in the investigation of so-called parapsychological or psi phenomena. Presented here by the program's Founder and first Director (1972 – 1985) is the early history of the program, including discussion of some of the first, now declassified, results that drove early interest.
Introduction
On April 17, 1995, President Clinton issued Executive Order Nr. 1995-4-17, entitled Classified National Security Information. Although in one sense the order simply reaffirmed much of what has been long-standing policy, in another sense there was a clear shift toward more openness. In the opening paragraph, for example, we read: "In recent years, however, dramatic changes have altered, although not eliminated, the national security threats that we confront. These changes provide a greater opportunity to emphasize our commitment to open Government." In the Classification Standards section of the Order this commitment is operationalized by phrases such as "If there is significant doubt about the need to classify information, it shall not be classified." Later in the document, in reference to information that requires continued protection, there even appears the remarkable phrase "In some exceptional cases, however, the need to protect such information may be outweighed by the public interest in disclosure of the information, and in these cases the information should be declassified."
A major fallout of this reframing of attitude toward classification is that there is enormous pressure on those charged with maintaining security to work hard at being responsive to reasonable requests for disclosure. One of the results is that FOIA (Freedom of Information Act) requests that have languished for months to years are suddenly being acted upon.1
One outcome of this change in policy is the government's recent admission of its two-decade-plus involvement in funding highly-classified, special access programs in remote viewing (RV) and related psi phenomena, first at Stanford Research Institute (SRI) and then at Science Applications International Corporation (SAIC), both in Menlo Park, CA, supplemented by various in-house government programs. Although almost all of the documentation remains yet classified, in July 1995 270 pages of SRI reports were declassified and released by the CIA, the program's first sponsor [2]. Thus, although through the years columns by Jack Anderson and others had claimed leaks of "psychic spy" programs with such exotic names as Grill Flame, Center Lane, Sunstreak and Star Gate, CIA's release of the SRI reports constitutes the first documented public admission of significant intelligence community involvement in the psi area.
As a consequence of the above, although I had founded the program in early 1972, and had acted as its Director until I left in 1985 to head up the Institute for Advanced Studies at Austin (at which point my colleague Ed May assumed responsibility as Director), it was not until 1995 that I found myself for the first time able to utter in a single sentence the connected acronyms CIA/SRI/RV. In this report I discuss the genesis of the program, report on some of the early, now declassified, results that drove early interest, and outline the general direction the program took as it expanded into a multi-year, multi-site, multi-million-dollar effort to determine whether such phenomena as remote viewing "might have any utility for intelligence collection" [1].
Beginnings
In early 1972 I was involved in laser research at Stanford Research Institute (now called SRI International) in Menlo Park, CA. At that time I was also circulating a proposal to obtain a small grant for some research in quantum biology. In that proposal I had raised the issue whether physical theory as we knew it was capable of describing life processes, and had suggested some measurements involving plants and lower organisms [3]. This proposal was widely circulated, and a copy was sent to Cleve Backster in New York City who was involved in measuring the electrical activity of plants with standard polygraph equipment. New York artist Ingo Swann chanced to see my proposal during a visit to Backster's lab, and wrote me suggesting that if I were interested in investigating the boundary between the physics of the animate and inanimate, I should consider experiments of the parapsychological type. Swann then went on to describe some apparently successful experiments in psychokinesis in which he had participated at Prof. Gertrude Schmeidler's laboratory at the City College of New York. As a result of this correspondence I invited him to visit SRI for a week in June 1972 to demonstrate such effects, frankly, as much out of personal scientific curiosity as anything else.
Prior to Swann's visit I arranged for access to a well-shielded magnetometer used in a quark-detection experiment in the Physics Department at Stanford University. During our visit to this laboratory, sprung as a surprise to Swann, he appeared to perturb the operation of the magnetometer, located in a vault below the floor of the building and shielded by mu-metal shielding, an aluminum container, copper shielding and a superconducting shield. As if to add insult to injury, he then went on to "remote view" the interior of the apparatus, rendering by drawing a reasonable facsimile of its rather complex (and heretofore unpublished) construction. It was this latter feat that impressed me perhaps even more than the former, as it also eventually did representatives of the intelligence community. I wrote up these observations and circulated it among my scientific colleagues in draft form of what was eventually published as part of a conference proceedings [4].
In a few short weeks a pair of visitors showed up at SRI with the above report in hand. Their credentials showed them to be from the CIA. They knew of my previous background as a Naval Intelligence Officer and then civilian employee at the National Security Agency (NSA) several years earlier, and felt they could discuss their concerns with me openly. There was, they told me, increasing concern in the intelligence community about the level of effort in Soviet parapsychology being funded by the Soviet security services [5]; by Western scientific standards the field was considered nonsense by most working scientists. As a result they had been on the lookout for a research laboratory outside of academia that could handle a quiet, low-profile classified investigation, and SRI appeared to fit the bill. They asked if I could arrange an opportunity for them to carry out some simple experiments with Swann, and, if the tests proved satisfactory, would I consider a pilot program along these lines? I agreed to consider this, and arranged for the requested tests.2
The tests were simple, the visitors simply hiding objects in a box and asking Swann to attempt to describe the contents. The results generated in these experiments are perhaps captured most eloquently by the following example. In one test Swann said "I see something small, brown and irregular, sort of like a leaf or something that resembles it, except that it seems very much alive, like it's even moving!" The target chosen by one of the visitors turned out to be a small live moth, which indeed did look like a leaf. Although not all responses were quite so precise, nonetheless the integrated results were sufficiently impressive that in short order an eight-month, $49,909 Biofield Measurements Program was negotiated as a pilot study, a laser colleague Russell Targ who had had a long-time interest and involvement in parapsychology joined the program, and the experimental effort was begun in earnest.
Early Remote Viewing Results
During the eight-month pilot study of remote viewing the effort gradually evolved from the remote viewing of symbols and objects in envelopes and boxes, to the remote viewing of local target sites in the San Francisco Bay area, demarked by outbound experimenters sent to the site under strict protocols devised to prevent artifactual results. Later judging of the results were similarly handled by double-blind protocols designed to foil artifactual matching. Since these results have been presented in detail elsewhere, both in the scientific literature [6-8] and in popular book format [9], I direct the interested reader to these sources. To summarize, over the years the back-and-forth criticism of protocols, refinement of methods, and successful replication of this type of remote viewing in independent laboratories [10-14], has yielded considerable scientific evidence for the reality of the phenomenon. Adding to the strength of these results was the discovery that a growing number of individuals could be found to demonstrate high-quality remote viewing, often to their own surprise, such as the talented Hella Hammid. As a separate issue, however, most convincing to our early program monitors were the results now to be described, generated under their own control.
First, during the collection of data for a formal remote viewing series targeting indoor laboratory apparatus and outdoor locations (a series eventually published in toto in the Proc. IEEE [7]), the CIA contract monitors, ever watchful for possible chicanery, participated as remote viewers themselves in order to critique the protocols. In this role three separate viewers, designated visitors V1 – V3 in the IEEE paper, contributed seven of the 55 viewings, several of striking quality. Reference to the IEEE paper for a comparison of descriptions/drawings to pictures of the associated targets, generated by the contract monitors in their own viewings, leaves little doubt as to why the contract monitors came to the conclusion that there was something to remote viewing (see, for example, Figure 1 herein). As summarized in the Executive Summary of the now-released Final Report [2] of the second year of the program, "The development of this capability at SRI has evolved to the point where visiting CIA personnel with no previous exposure to such concepts have performed well under controlled laboratory conditions (that is, generated target descriptions of sufficiently high quality to permit blind matching of descriptions to targets by independent judges)." What happened next, however, made even these results pale in comparison.
| | |
| --- | --- |
| Figure 1 – Sketch of target by V1 | Figure 2 – Target (merry-go-round) |
Coordinate Remote Viewing
To determine whether it was necessary to have a "beacon" individual at the target site, Swann suggested carrying out an experiment to remote view the planet Jupiter before the upcoming NASA Pioneer 10 flyby. In that case, much to his chagrin (and ours) he found a ring around Jupiter, and wondered if perhaps he had remote viewed Saturn by mistake. Our colleagues in astronomy were quite unimpressed as well, until the flyby revealed that an unanticipated ring did in fact exist.3
Expanding the protocols yet further, Swann proposed a series of experiments in which the target was designated not by sending a "beacon" person to the target site, but rather by the use of geographical coordinates, latitude and longitude in degrees, minutes and seconds. Needless to say, this proposal seemed even more outrageous than "ordinary" remote viewing. The difficulties in taking this proposal seriously, designing protocols to eliminate the possibility of a combination of globe memorization and eidetic or photographic memory, and so forth, are discussed in considerable detail in Reference [9]. Suffice it to say that investigation of this approach, which we designated Scanate (scanning by coordinate), eventually provided us with sufficient evidence to bring it up to the contract monitors and suggest a test under their control. A description of that test and its results, carried out in mid-1973 during the initial pilot study, are best presented by quoting directly from the Executive Summary of the Final Report of the second year's followup program [2]. The remote viewers were Ingo Swann and Pat Price, and the entire transcripts are available in the released documents [2].
"In order to subject the remote viewing phenomena to a rigorous long-distance test under external control, a request for geographical coordinates of a site unknown to subject and experimenters was forwarded to the OSI group responsible for threat analysis in this area. In response, SRI personnel received a set of geographical coordinates (latitude and longitude in degrees, minutes, and seconds) of a facility, hereafter referred to as the West Virginia Site. The experimenters then carried out a remote viewing experiment on a double-blind basis, that is, blind to experimenters as well as subject. The experiment had as its goal the determination of the utility of remote viewing under conditions approximating an operational scenario. Two subjects targeted on the site, a sensitive installation. One subject drew a detailed map of the building and grounds layout, the other provided information about the interior including codewords, data subsequently verified by sponsor sources (report available from COTR)."4
Since details concerning the site's mission in general,5 and evaluation of the remote viewing test in particular, remain highly classified to this day, all that can be said is that interest in the client community was heightened considerably following this exercise.
Because Price found the above exercise so interesting, as a personal challenge he went on to scan the other side of the globe for a Communist Bloc equivalent and found one located in the Urals, the detailed description of which is also included in Ref. [2]. As with the West Virginia Site, the report for the Urals Site was also verified by personnel in the sponsor organization as being substantially correct.
What makes the West Virginia/Urals Sites viewings so remarkable is that these are not best-ever examples culled out of a longer list; these are literally the first two site-viewings carried out in a simulated operational-type scenario. In fact, for Price these were the very first two remote viewings in our program altogether, and he was invited to participate in yet further experimentation.
Operational Remote Viewing (Semipalatinsk, USSR)
Midway through the second year of the program (July 1974) our CIA sponsor decided to challenge us to provide data on a Soviet site of ongoing operational significance. Pat Price was the remote viewer. A description of the remote viewing, taken from our declassified final report [2], reads as given below. I cite this level of detail to indicate the thought that goes into such an "experiment" to minimize cueing while at the same time being responsive to the requirements of an operational situation. Again, this is not a "best-ever" example from a series of such viewings, but rather the very first operational Soviet target concerning which we were officially tasked.
"To determine the utility of remote viewing under operational conditions, a long-distance remote viewing experiment was carried out on a sponsor-designated target of current interest, an unidentified research center at Semipalatinsk, USSR.
This experiment, carried out in three phases, was under direct control of the COTR. To begin the experiment, the COTR furnished map coordinates in degrees, minutes and seconds. The only additional information provided was the designation of the target as an R&D test facility. The experimenters then closeted themselves with Subject S1, gave him the map coordinates and indicated the designation of the target as an R&D test facility. A remote-viewing experiment was then carried out. This activity constituted Phase I of the experiment.
| | |
| --- | --- |
| Figure 3 – Subject effort at building layout | Figure 4 – Subject effort at crane construction |
Figure 3 shows the subject's graphic effort for building layout; Figure 4 shows the subject's particular attention to a multistory gantry crane he observed at the site. Both results were obtained by the experimenters on a double-blind basis before exposure to any additional COTR-held information, thus eliminating the possibility of cueing. These results were turned over to the client representatives for evaluation. For comparison an artist's rendering of the site as known to the COTR (but not to the experimenters until later) is shown in Figure 5…..


Figure 5 – Actual COTR rendering of Semipalatinsk, USSR target site
Were the results not promising, the experiment would have stopped at this point. Description of the multistory crane, however, a relatively unusual target item, was taken as indicative of possible target acquisition. Therefore, Phase II was begun, defined by the subject being made "witting" (of the client) by client representatives who introduced themselves to the subject at that point; Phase II also included a second round of experimentation on the Semipalatinsk site with direct participation of client representatives in which further data were obtained and evaluated. As preparation for this phase, client representatives purposely kept themselves blind to all but general knowledge of the target site to minimize the possibility of cueing. The Phase II effort was focused on the generation of physical data that could be independently verified by other client sources, thus providing a calibration of the process.
The end of Phase II gradually evolved into the first part of Phase III, the generation of unverifiable data concerning the Semipalatinsk site not available to the client, but of operational interest nonetheless. Several hours of tape transcript and a notebook of drawings were generated over a two-week period.
The data describing the Semipalatinsk site were evaluated by the sponsor, and are contained in a separate report. In general, several details concerning the salient technology of the Semipalatinsk site appeared to dovetail with data from other sources, and a number of specific large structural elements were correctly described. The results contained noise along with the signal, but were nonetheless clearly differentiated from the chance results that were generated by control subjects in comparison experiments carried out by the COTR."
For discussion of the ambiance and personal factors involved in carrying out this experiment, along with further detail generated as Price (see Figure 6) "roamed" the facility, including detailed comparison of Price's RV-generated information with later-determined "ground-truth reality," see the accompanying article by Russell Targ in the Journal of Scientific Exploration, Vol. 10, No. 1. Click here to read the abstract.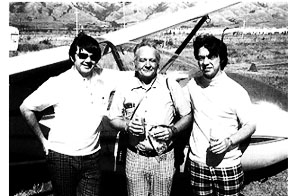 Figure 6 – Left to right: Christopher Green, Pat Price, and Hal Puthoff.
Picture taken following a successful experiment involving glider-ground RV.
Additional experiments having implications for intelligence concerns were carried out, such as the remote viewing of cipher-machine type apparatus, and the RV-sorting of sealed envelopes to differentiate those that contained letters with secret writing from those that did not. To discuss these here in detail would take us too far afield, but the interested reader can follow up by referring to the now-declassified project documents [2].
Follow-on Programs
The above discussion brings us up to the end of 1975. As a result of the material being generated by both SRI and CIA remote viewers, interest in the program in government circles, especially within the intelligence community, intensified considerably and led to an ever-increasing briefing schedule. This in turn led to an ever-increasing number of clients, contracts and tasking, and therefore expansion of the program to a multi-client base, and eventually to an integrated joint-services program under single-agency (DIA)6 leadership. To meet the demand for the increased level of effort we first increased our professional staff by inviting Ed May to join the program in 1976, then screened and added to the program a cadre of remote viewers as consultants, and let subcontracts to increase our scope of activity.
As the program expanded, in only a very few cases could the clients' identities and program tasking be revealed. Examples include a NASA-funded study negotiated early in the program by Russ Targ to determine whether the internal state of an electronic random-number-generator could be detected by RV processes [16], and a study funded by the Naval Electronics Systems Command to determine whether attempted remote viewing of distant light flashes would induce correlated changes in the viewer's brainwave (EEG) production [17]. For essentially all other projects during my 14-yr. tenure at SRI, however, the identity of the clients and most of the tasking were classified and remain so today. (The exception was the occasional privately-funded study.) We are told, however, that further declassification and release of much of this material is almost certain to occur.
What can be said, then, about further development of the program in the two decades following 1975?7 In broad terms it can be said that much of the SRI effort was directed not so much toward developing an operational U.S. capability, but rather toward assessing the threat potential of its use against the U.S. by others. The words threat assessment were often used to describe the program's purpose during its development, especially during the early years. As a result much of the remote-viewing activity was carried out under conditions where ground-truth reality was a priori known or could be determined, such as the description of U.S. facilities and technological developments, the timing of rocket test firings and underground nuclear tests, and the location of individuals and mobile units. And, of course, we were responsive to requests to provide assistance during such events as the loss of an airplane or the taking of hostages, relying on the talents of an increasing cadre of remote-viewer/consultants, some well-known in the field such as Keith Harary, and many who have not surfaced publicly until recently, such as Joe McMoneagle.
One might ask whether in this program RV-generated information was ever of sufficient significance as to influence decisions at a policy level. This is of course impossible to determine unless policymakers were to come forward with a statement in the affirmative. One example of a possible candidate is a study we performed at SRI during the Carter-administration debates concerning proposed deployment of the mobile MX missile system. In that scenario missiles were to be randomly shuffled from silo to silo in a silo field, in a form of high-tech shell game. In a computer simulation of a twenty-silo field with randomly-assigned (hidden) missile locations, we were able, using RV-generated data, to show rather forcefully that the application of a sophisticated statistical averaging technique (sequential sampling) could in principle permit an adversary to defeat the system. I briefed these results to the appropriate offices at their request, and a written report with the technical details was widely circulated among groups responsible for threat analysis [18], and with some impact. What role, if any, our small contribution played in the mix of factors behind the enormously complex decision to cancel the program will probably never be known, and must of course a priori be considered in all likelihood negligible. Nonetheless, this is a prototypical example of the kind of tasking that by its nature potentially had policy implications.
Even though the details of the broad range of experiments, some brilliant successes, many total failures, have not yet been released, we have nonetheless been able to publish summaries of what was learned in these studies about the overall characteristics of remote viewing, as in Table 5 of Reference [8]. Furthermore, over the years we were able to address certain questions of scientific interest in a rigorous way and to publish the results in the open literature. Examples include the apparent lack of attenuation of remote viewing due to seawater shielding (submersible experiments) [8], the amplification of RV performance by use of error-correcting coding techniques [19,20], and the utility of a technique we call associational remote viewing (ARV) to generate useful predictive information [21].8
As a sociological aside, we note that the overall efficacy of remote viewing in a program like this was not just a scientific issue. For example, when the Semipalatinsk data described earlier was forwarded for analysis, one group declined to get involved because the whole concept was unscientific nonsense, while a second group declined because, even though it might be real, it was possibly demonic; a third group had to be found. And, as in the case of public debate about such phenomena, the program's image was on occasion as likely to be damaged by an overenthusiastic supporter as by a detractor. Personalities, politics and personal biases were always factors to be dealt with.
Official Statements/Perspectives
With regard to admission by the government of its use of remote viewers under operational conditions, officials have on occasion been relatively forthcoming. President Carter, in a speech to college students in Atlanta in September 1995, is quoted by Reuters as saying that during his administration a plane went down in Zaire, and a meticulous sweep of the African terrain by American spy satellites failed to locate any sign of the wreckage. It was then "without my knowledge" that the head of the CIA (Adm. Stansfield Turner) turned to a woman reputed to have psychic powers. As told by Carter, "she gave some latitude and longitude figures. We focused our satellite cameras on that point and the plane was there." Independently, Turner himself also has admitted the Agency's use of a remote viewer (in this case, Pat Price).9 And recently, in a segment taped for the British television series Equinox [22], Maj. Gen. Ed Thompson, Assistant Chief of Staff for Intelligence, U.S. Army (1977-1981), volunteered "I had one or more briefings by SRI and was impressed…. The decision I made was to set up a small, in-house, low-cost effort in remote viewing…."
Finally, a recent unclassified report [23] prepared for the CIA by the American Institutes for Research (AIR), concerning a remote viewing effort carried out under a DIA program called Star Gate (discussed in detail elsewhere in this volume), cites the roles of the CIA and DIA in the history of the program, including acknowledgment that a cadre of full-time government employees used remote viewing techniques to respond to tasking from operational military organizations.10
As information concerning the various programs spawned by intelligence-community interest is released, and the dialog concerning their scientific and social significance is joined, the results are certain to be hotly debated. Bearing witness to this fact are the companion articles in this volume by Ed May, Director of the SRI and SAIC programs since 1985, and by Jessica Utts and Ray Hyman, consultants on the AIR evaluation cited above. These articles address in part the AIR study. That study, limited in scope to a small fragment of the overall program effort, resulted in a conclusion that although laboratory research showed statistically significant results, use of remote viewing in intelligence gathering was not warranted.
Regardless of one's a priori position, however, an unimpassioned observer cannot help but attest to the following fact. Despite the ambiguities inherent in the type of exploration covered in these programs, the integrated results appear to provide unequivocal evidence of a human capacity to access events remote in space and time, however falteringly, by some cognitive process not yet understood. My years of involvement as a research manager in these programs have left me with the conviction that this fact must be taken into account in any attempt to develop an unbiased picture of the structure of reality.
---
Footnotes
---
References
[1] "CIA Statement on 'Remote Viewing'," CIA Public Affairs Office, 6 September 1995.
[2] Harold E. Puthoff and Russell Targ, "Perceptual Augmentation Techniques," SRI Progress Report No. 3 (31 Oct. 1974) and Final Report (1 Dec. 1975) to the CIA, covering the period January 1974 through February 1975, the second year of the program. This effort was funded at the level of $149,555.
[3] H. E. Puthoff, "Toward a Quantum Theory of Life Process," unpubl. proposal, Stanford Research Institute (1972).
[4] H. E. Puthoff and R. Targ, "Physics, Entropy and Psychokinesis," in Proc. Conf. Quantum Physics and Parapsychology (Geneva, Switzerland); (New York: Parapsychology Foundation, 1975).
[5] Documented in "Paraphysics R&D – Warsaw Pact (U)," DST-1810S-202-78, Defense Intelligence Agency (30 March 1978).
[6] R. Targ and H. E. Puthoff, "Information Transfer under Conditions of Sensory Shielding," Nature 252, 602 (1974).
[7] H. E. Puthoff and R. Targ, "A Perceptual Channel for Information Transfer over Kilometer Distances: Historical Perspective and Recent Research," Proc. IEEE 64, 329 (1976).
[8] H. E. Puthoff, R. Targ and E. C. May, "Experimental Psi Research: Implications for Physics," in The Role of Consciousness in the Physical World, edited by R. G. Jahn (AAAS Selected Symposium 57, Westview Press, Boulder, 1981).
[9] R. Targ and H. E. Puthoff, Mind Reach (Delacorte Press, New York, 1977).
[10] J. P. Bisaha and B. J. Dunne, "Multiple Subject and Long-Distance Precognitive Remote Viewing of Geographical Locations," in Mind at Large, edited by C. T. Tart, H. E. Puthoff and R. Targ (Praeger, New York, 1979), p. 107.
[11] B. J. Dunne and J. P. Bisaha, "Precognitive Remote Viewing in the Chicago Area: a Replication of the Stanford Experiment," J. Parapsychology 43, 17 (1979).
[12] R. G. Jahn, "The Persistent Paradox of Psychic Phenomena: An Engineering Perspective," Proc. IEEE 70, 136 (1982).
[13] R. G. Jahn and B. J. Dunne, "On the Quantum Mechanics of Consciousness with Application to Anomalous Phenomena," Found. Phys. 16, 721 (1986).
[14] R. G. Jahn and B. J. Dunne, Margins of Reality (Harcourt, Brace and Jovanovich, New York, 1987).
[15] J. Bamford, The Puzzle Palace (Penguin Books, New York, 1983) pp. 218-222.
[16] R. Targ, P. Cole and H. E. Puthoff, "Techniques to Enhance Man/Machine Communication," Stanford Research Institute Final Report on NASA Project NAS7-100 (August 1974).
[17] R. Targ, E. C. May, H. E. Puthoff, D. Galin and R. Ornstein, "Sensing of Remote EM Sources (Physiological Correlates)," SRI Intern'l Final Report on Naval Electronics Systems Command Project N00039-76-C-0077, covering the period November 1975 – to October 1976 (April 1978).
[18] H. E. Puthoff, "Feasibility Study on the Vulnerability of the MPS System to RV Detection Techniques," SRI Internal Report, 15 April 1979; revised 2 May 1979.
[19] H. E. Puthoff, "Calculator-Assisted Psi Amplification," Research in Parapsychology 1984, edited by Rhea White and J. Solfvin (Scarecrow Press, Metuchen, NJ, 1985), p. 48.
[20] H. E. Puthoff, "Calculator-Assisted Psi Amplification II: Use of the Sequential-Sampling Technique as a Variable-Length Majority-Vote Code," Research in Parapsychology 1985, edited by D. Weiner and D. Radin (Scarecrow Press, Metuchen, NJ, 1986), p. 73.
[21] H. E. Puthoff, "ARV (Associational Remote Viewing) Applications," Research in Parapsychology 1984, edited by Rhea White and J. Solfvin (Scarecrow Press, Metuchen, NJ, 1985), p. 121.
[22] "The Real X-Files," Independent Channel 4, England (shown 27 August 1995); to be shown in the U.S. on the Discovery Channel.
[23] M. D. Mumford, A. M. Rose and D. Goslin, "An Evaluation of Remote Viewing: Research and Applications," American Institutes for Research (September 29, 1995).
STAR GATE [Controlled Remote Viewing]

STAR GATE was one of a number of "remote viewing programs" conducted under a variety of code names, including SUN STREAK, GRILL FLAME, and CENTER LANE by DIA and INSCOM, and SCANATE by CIA. These efforts were initiated to assess foreign programs in the field; contract for basic research into the the phenomenon; and to evaluate controlled remote viewing as an intelligence tool.The program consisted of two separate activities. An operational unit employed remote viewers to train and perform remote viewing intelligence-gathering. The research program was maintained separately from the operational unit.

This effort was initiated in response to CIA concerns about reported Soviets investigations of psychic phenomena. Between 1969 and 1971, US intelligence sources concluded that the Soviet Union was engaged in "psychotronic" research. By 1970, it was suggested that the Soviets were spending approximately 60 million rubles per year on it, and over 300 million by 1975. The money and personnel devoted to Soviet psychotronics suggested that they had achieved breakthroughs, even though the matter was considered speculative, controversial and "fringy."

The initial research program, called SCANATE [scan by coordinate] was funded by CIA beginning in 1970. Remote viewing research began in 1972 at the Stanford Research Institute [SRI] in Menlo Park, CA. This work was conducted by Russell Targ and Harold Puthoff, once with the NSA and at the time a Scientologist. The effort initially focused on a few "gifted individuals" such as New York artist Ingo Swann, an OT Level VII Scientologist. Many of the SRI "empaths" were from the Church of Scientology. Individuals who appeared to show potential were trained and taught to use talents for "psychic warfare." The minimum accuracy needed by the clients was said to be 65%, and proponents claim that in the later stages of the training effort, this accuracy level was "often consistently exceeded."

GONDOLA WISH was a 1977 Army Assistant Chief of Staff for Intelligence (ACSI) Systems Exploitation Detachment (SED) effort to evaluate potential adversary applications of remote viewing.

Building on GONDOLA WISH, an operational collection project was formalized under Army intelligence as GRILL FLAME in mid-1978. Located in buildings 2560 and 2561 at Fort Meade, MD, GRILL FLAME, (INSCOM "Detachment G") consisted of soldiers and a few civilians who were believed to possess varying degrees of natural psychic ability. The SRI research program was integrated into GRILL FLAME in early 1979, and hundreds of remote viewing experiments were carried out at SRI through 1986.

In 1983 the program was re-designated the INSCOM CENTER LANE Project (ICLP). Ingo Swann and Harold Puthoff at SRI developed a set of instructions which theoretically allowed anyone to be trained to produce accurate, detailed target data. used this new collection methodology against a wide range of operational and training targets. The existence of this highly classified program was reported by columnist Jack Anderson in April 1984.

In 1984 the National Academy of Sciences' National Research Council evaluated the remote viewing program for the Army Research Institute. The results were unfavorable.

When Army funding ended in late 1985, the unit was redesignated SUN STREAK and transferred to DIA's Scientific and Technical Intelligence Directorate, with the office code DT-S.

Under the auspices of the DIA, the program transitioned to Science Applications International Corporation [SAIC] in 1991 and was renamed STAR GATE. The project, changed from a SAP (Special Access Program) to a LIMDIS (limited dissemination) program, continued with the participation of Edwin May, who presided over 70% of the total contractor budget and 85% of the program's data collection.

Over a period of more than two decades some $20 million were spent on STAR GATE and related activities, with $11 million budgeted from the mid-1980's to the early 1990s. Over forty personnel served in the program at various times, including about 23 remote viewers. At its peak during the mid-1980s the program included as many as seven full-time viewers and as many analytical and support personnel. Three psychics were reportedly worked at FT Meade for the CIA from 1990 through July 1995. The psychics were made available to other government agencies which requested their services.

Participants who apparently demonstrated psychic abilities used at least three different techniques various times:

Coordinate Remote Viewing (CRV) – the original SRI-developed technique in which viewers were asked what they "saw" at specified geographic coordinates
Extended Remote Viewing (ERV) – a hybrid relaxation/meditative-based method
Written Remote Viewing (WRV) – a hybrid of both channeling and automatic writing was introduced in 1988, though it proved controversial and was regarded by some as much less reliable.

By 1995 the program had conducted several hundred intelligence collection projects involving thousands of remote viewing sessions. Notable successes were said to be "eight martini" results, so-called because the remote viewing data were so mind-boggling that everyone has to go out and drink eight martinis to recover. Reported intelligence gathering successes included:

Joe McMoneagle, a retired Special Project Intelligence Officer for SSPD, SSD, and 902d MI Group, claims to have left Stargate in 1984 with a Legion of Merit Award for providing information on 150 targets that were unavailable from other sources.
In 1974 one remote viewer appeared to have correctly described an airfield with a large gantry and crane at one end of the field. The airfield at the given map coordinates was the Soviet nuclear testing area at Semipalatinsk — a possible underground nuclear testing site [PNUTS]. In general, however, most of the receiver's data were incorrect or could not be evaluated.
A "remote viewer" was tasked to locate a Soviet Tu-95 bomber which had crashed somewhere in Africa, which he allegedly did within several miles of the actual wreckage.
In September 1979 the National Security Council staff asked about a Soviet submarine under construction. The remote viewer reported that a very large, new submarine with 18-20 missile launch tubes and a "large flat area" at the aft end would be launched in 100 days. Two subs, one with 24 launch tubes and the other with 20 launch tubes and a large flat aft deck, were reportedly sighted in 120 days.
One assignment included locating kidnapped BG James L. Dozier, who had been kidnapped by the Red Brigades in Italy in 1981. He was freed by Italian police after 42 days, apparently without help from the psychics. [according to news reports, Italian police were assisted by "US State and Defense Department specialists" using electronic surveillance equipment, an apparent reference to the Special Collection Service]
Another assignment included trying to hunt down Gadhafi before the 1986 bombing of Libya, but Gadhafi was not injured in the bombing.
In February 1988 DIA asked where Marine Corps COL William Higgins was being held in Lebanon. A remote viwer stated that Higgins was in a specific building in a specific South Lebanon village, and a released hostage later said to have claimed that Higgins had probably been in that building at that time.
In January 1989 DOD was said to have asked about Libyan chemical weapons work. A remote viewer reported that ship named either Patua or Potua would sail from Tripoli to transport chemicals to an eastern Libyan port. Reportedly, a ship named Batato loaded an undetermined cargo in Tripoli and brought to an eastern Libyan port.
Reportedly a remote-viewer "saw" that a KGB colonel caught spying in South Africa had been smuggling information using a pocket calculator containing a communications device. It is said that questioniong along these lines by South African intelligence led the spy to cooperate.
During the Gulf War remote-viewers were reported to have suggested the whereabouts of Iraq's Saddam Hussein, though there was never an independent verification of this finding.
The unit was tasked to find plutonium in North Korea in 1994, apparently without notable success.
Remote viewers were also said to have helped find SCUD missiles and secret biological and chemical warfare projects, and to have located and identified the purposes of tunnels and extensive underground facilities.

The US program was sustained through the support of Sen. Claiborne Pell, D-R.I., and Rep. Charles Rose, D-N.C., who were convinced of the program's effectiveness. However, by the early 1990s the program was plagued by uneven management, poor unit morale, divisiveness within the organization, poor performance, and few accurate results. The FY 1995 Defense Appropriations bill directed that the program be transferred to CIA, with CIA instructed to conduct a retrospective review of the program. In 1995 the American Institutes for Research (AIR) was contracted by CIA to evaluate the program. Their 29 September 1995 final report was released to the public 28 November 1995. A positive assessment by statistician Jessica Utts, that a statistically significant effect had been demonstrated in the laboratory [the government psychics were said to be accurate about 15 percent of the time], was offset by a negative one by psychologist Ray Hyman [a prominent CSICOP psychic debunker]. The final recommendation by AIR was to terminate the STAR GATE effort. CIA concluded that there was no case in which ESP had provided data used to guide intelligence operations.

Resources
---
---
https://irp.fas.org/program/collect/stargate.htm
Maintained by Steven Aftergood
Created by John Pike
Updated December 29, 2005
Stargate Project was a secret U.S. Army unit established in 1978 at Fort Meade, Maryland, by the Defense Intelligence Agency (DIA) and SRI International (a California contractor) to investigate the potential for psychic phenomena in military and domestic intelligence applications. The Project, and its precursors and sister projects, originally went by various code names – 'Gondola Wish', 'Stargate', 'Grill Flame', 'Center Lane', 'Project CF', 'Sun Streak', 'Scangate'  – until 1991 when they were consolidated and rechristened as "Stargate Project".
Stargate Project's work primarily involved remote viewing, the purported ability to psychically "see" events, sites, or information from a great distance.[1] The project was overseen until 1987 by Lt. Frederick Holmes "Skip" Atwater, an aide and "psychic headhunter" to Maj. Gen. Albert Stubblebine, and later president of the Monroe Institute.[2] The unit was small scale, comprising about 15 to 20 individuals, and was run out of "an old, leaky wooden barracks".[3]
The Stargate Project was terminated and declassified in 1995 after a CIA report concluded that it was never useful in any intelligence operation. Information provided by the program was vague and included irrelevant and erroneous data, and there were suspicions of inter-judge reliability.[4]: 5–4  The program was featured in the 2004 book and 2009 film, both titled The Men Who Stare at Goats,[5][6][7][8] although neither mentions it by name.
Background
Information in the United States on psychic research in some foreign countries was poorly detailed, based mostly on rumor or innuendo from second-hand or tertiary reporting, attributed to both reliable and unreliable disinformation sources from the Soviet Union.
The CIA and DIA decided they should investigate and know as much about it as possible. Various programs were approved yearly and re-funded accordingly. Reviews were made semi-annually at the Senate and House select committee level. Work results were reviewed, and remote viewing was attempted with the results being kept secret from the "viewer". It was thought that if the viewer was shown they were incorrect it would damage the viewer's confidence and skill. This was standard operating procedure throughout the years of military and domestic remote viewing programs. Feedback to the remote viewer of any kind was rare; it was kept classified and secret.[9]
Remote viewing attempts to sense unknown information about places or events. Normally it is performed to detect current events, but during military and domestic intelligence applications viewers claimed to sense things in the future, experiencing precognition.[10]
History
1970s
In 1970 United States intelligence sources believed that the Soviet Union was spending 60 million roubles annually on "psychotronic" research. In response to claims that the Soviet program had produced results, the CIA initiated funding for a new program known as SCANATE ("scan by coordinate") in the same year.[11] Remote viewing research began in 1972 at the Stanford Research Institute (SRI) in Menlo Park, California.[11] Proponents (Russell Targ and Harold Puthoff) of the research said that a minimum accuracy rate of 65% required by the clients was often exceeded in the later experiments.[11]
Physicists Russell Targ and Harold Puthoff began testing psychics for SRI in 1972, including one who would later become an international celebrity, Israeli Uri Geller. Their apparently successful results garnered interest within the U.S. Department of Defense. Ray Hyman, professor of psychology at the University of Oregon, was asked by Air Force psychologist Lt. Col. Austin W. Kibler (1930–2008) – then Director of Behavioral Research for ARPA – to go to SRI and investigate. He was to specifically evaluate Geller. Hyman's report to the government was that Geller was a "complete fraud" and as a consequence Targ and Puthoff lost their government contract to work further with him. The result was a publicity tour for Geller, Targ, and Puthoff to seek private funding for further research work on Geller.[12]
One of the project's successes was the location of a lost Soviet spy plane in 1976 by Rosemary Smith, a young administrative assistant recruited by project director Dale Graff.[13]
In 1977 the Army Assistant Chief of Staff for Intelligence (ACSI) Systems Exploitation Detachment (SED) started the Gondola Wish program to "evaluate potential adversary applications of remote viewing."[11] Army Intelligence then formalized this in mid-1978 as an operational program Grill Flame , based in buildings 2560 and 2561 at Fort Meade, in Maryland (INSCOM "Detachment G").[11]
1980s
In early 1979 the research at SRI was integrated into 'Grill Flame', which was redesignated INSCOM 'Center Lane' Project (ICLP) in 1983. In 1984 the existence of the program was reported by Jack Anderson, and in that year it was unfavorably received by the National Academy of Sciences National Research Council. In late 1985 the Army funding was terminated, but the program was redesignated 'Sun Streak' and funded by the DIA's Scientific and Technical Intelligence Directorate (office code DT-S).[11]
1990s
In 1991 most of the contracting for the program was transferred from SRI to Science Applications International Corporation (SAIC), with Edwin May controlling 70% of the contractor funds and 85% of the data. Its security was altered from Special Access Program (SAP) to Limited Dissemination (LIMDIS), and it was given its final name, STARGATE.[11]
Closure (1995)
In 1995 the defense appropriations bill directed that the program be transferred from DIA to CIA oversight. The CIA commissioned a report by the American Institutes for Research (AIR) that found that remote viewing had not been proved to work by a psychic mechanism, and said it had not been used operationally.[4]: 5–4  The CIA subsequently cancelled and declassified the program.[11]
In 1995 the project was transferred to the CIA and a retrospective evaluation of the results was done. The appointed panel consisted primarily of Jessica Utts and Ray Hyman. Hyman had produced an unflattering report on Uri Geller and SRI for the government two decades earlier, but the psychologist David Marks found Utts' appointment to the review panel "puzzling" given that she had published papers with Edwin May, considering this joint research likely to make her "less than [im]partial".[1] A report by Utts claimed the results were evidence of psychic functioning; however, Hyman in his report argued Utts's conclusion that ESP had been proven to exist, especially precognition, was premature and the findings had not been independently replicated.[14] Hyman came to the conclusion:
Psychologists, such as myself, who study subjective validation find nothing striking or surprising in the reported matching of reports against targets in the Stargate data. The overwhelming amount of data generated by the viewers is vague, general, and way off target. The few apparent hits are just what we would expect if nothing other than reasonable guessing and subjective validation are operating.[15]
A later report by AIR came to a negative conclusion. Joe Nickell has written:
Other evaluators – two psychologists from AIR – assessed the potential intelligence-gathering usefulness of remote viewing. They concluded that the alleged psychic technique was of dubious value and lacked the concreteness and reliability necessary for it to be used as a basis for making decisions or taking action. The final report found "reason to suspect" that in "some well publicised cases of dramatic hits" the remote viewers might have had "substantially more background information" than might otherwise be apparent.[16]
According to AIR, which performed a review of the project, no remote viewing report ever provided actionable information for any intelligence operation.[17][4]: 5–4 
Based upon the collected findings, which recommended a higher level of critical research and tighter controls, the CIA terminated the 20 million dollar project, citing a lack of documented evidence that the program had any value to the intelligence community. Time magazine stated in 1995 three full-time psychics were still working on a $500,000-a-year budget out of Fort Meade, Maryland, which would soon close.[17]
David Marks in his book The Psychology of the Psychic (2000) discussed the flaws in the Stargate Project in detail.[1] Marks wrote that there were six negative design features of the experiments. The possibility of cues or sensory leakage was not ruled out, no independent replication, some experiments were conducted in secret making peer-review impossible. Marks noted that the judge Edwin May was also the principal investigator for the project and this was problematic, making a huge conflict of interest with collusion, cuing and fraud being possible. Marks concluded the project was nothing more than a "subjective delusion" and after two decades of research it had failed to provide any scientific evidence for the legitimacy of remote viewing.[1]
The Stargate Project was claimed
to have been terminated in 1995 following an independent review which concluded:
The foregoing observations provide a compelling argument against continuation of the program within the intelligence community. Even though a statistically significant effect has been observed in the laboratory, it remains unclear whether the existence of a paranormal phenomenon, remote viewing, has been demonstrated. The laboratory studies do not provide evidence regarding the origins or nature of the phenomenon, assuming it exists, nor do they address an important methodological issue of inter-judge reliability.

Further, even if it could be demonstrated unequivocally that a paranormal phenomenon occurs under the conditions present in the laboratory paradigm, these conditions have limited applicability and utility for intelligence gathering operations. For example, the nature of the remote viewing targets are vastly dissimilar, as are the specific tasks required of the remote viewers. Most importantly, the information provided by remote viewing is vague and ambiguous, making it difficult, if not impossible, for the technique to yield information of sufficient quality and accuracy of information for actionable intelligence. Thus, we conclude that continued use of remote viewing in intelligence gathering operations is not warranted.[4]: E-4–E-5 
In January 2017, the CIA published records online of the Stargate Project as part of the CREST archive.[18]
Methodology
The Stargate Project created a set of protocols designed to make the research of clairvoyance and out-of-body experiences more scientific, and to minimize as much as possible session noise and inaccuracy. The term "remote viewing" emerged as shorthand to describe this more structured approach to clairvoyance. Project Stargate would only receive a mission after all other intelligence attempts, methods, or approaches had already been exhausted.[10]: 21 
It was reported that at peak manpower there were over 22 active military and civilian remote viewers providing data. People leaving the project were not replaced. When the project closed in 1995 this number had dwindled down to three. One was using tarot cards. According to Joseph McMoneagle, "The Army never had a truly open attitude toward psychic functioning". Hence, the use of the term "giggle factor"[19] and the saying, "I wouldn't want to be found dead next to a psychic."[9]
Civilian personnel
Hal Puthoff
In the 1970s, CIA and DIA granted funds to Harold E. Puthoff to investigate paranormal abilities, collaborating with Russell Targ in a study of the purported psychic abilities of Uri Geller, Ingo Swann, Pat Price, Joseph McMoneagle and others, as part of the Stargate Project,[20] of which Puthoff became a director.[21]
As with Ingo Swann and Pat Price, Puthoff attributed much of his personal remote viewing skills to his involvement with Scientology whereby he had attained, at that time, the highest level. All three eventually left Scientology in the late 1970s.
Puthoff worked as the principal investigator of the project. His team of psychics is said to have identified spies, located Soviet weapons and technologies, such as a nuclear submarine in 1979 and helped find lost SCUD missiles in the first Gulf War and plutonium in North Korea in 1994.[22]
Russell Targ
In the 1970s, Russell Targ began working with Harold Puthoff on Stargate Project, while working with him as a researcher at Stanford Research Institute.[23][24]
Edwin May
Edwin C. May joined the Stargate Project in 1975 as a consultant and was working full-time in 1976. The original project was part of the Cognitive Sciences Laboratory managed by May. With more funding in 1991 May took the project to the Palo Alto offices at SAIC. This would last until 1995 when the CIA closed the project.[1]
May worked as the principal investigator, judge and the star gatekeeper for the project. Marks says this was a serious weakness for the experiments as May had conflict of interest and could have done whatever he wanted with the data. Marks has written that May refused to release the names of the "oversight committee" and refused permission for him to give an independent judging of the star gate transcripts. Marks found this suspicious, commenting "this refusal suggests that something must be wrong with the data or with the methods of data selection."[1]
Ingo Swann
Originally tested in the "Phase One" were OOBE-Beacon "RV" experiments at the American Society for Psychical Research,[25] under research director Karlis Osis. A former OT VII Scientologist,[26] who alleged to have coined the term 'remote viewing' as a derivation of protocols originally developed by René Warcollier, a French chemical engineer in the early 20th century, documented in the book Mind to Mind, Classics in Consciousness Series Books by (ISBN 978-1571743114). Swann's achievement was to break free from the conventional mold of casual experimentation and candidate burn out, and develop a viable set of protocols that put clairvoyance within a framework named "Coordinate Remote Viewing" (CRV).[27] In a 1995 letter Edwin C. May wrote he had not used Swann for two years because there were rumors of him briefing a high level person at SAIC and the CIA on remote viewing and aliens, ETs.[28]
Pat Price
A former Burbank, California, police officer and former Scientologist who participated in a number of Cold War era remote viewing experiments, including the US government-sponsored projects SCANATE and the Stargate Project. Price joined the program after a chance encounter with fellow Scientologists (at the time) Harold Puthoff and Ingo Swann near SRI.[29] Working with maps and photographs provided to him by the CIA, Price claimed to have been able to retrieve information from facilities behind Soviet lines. He is probably best known for his sketches of cranes and gantries which appeared to conform to CIA intelligence photographs. At the time, the CIA took his claims seriously.[30]
Military personnel
Major General Albert Stubblebine
A key sponsor of the research internally at Fort Meade, Maryland, Maj. Gen. Stubblebine was convinced of the reality of a wide variety of psychic phenomena. He required that all of his battalion commanders learn how to bend spoons a la Uri Geller, and he himself attempted several psychic feats, even attempting to walk through walls. In the early 1980s he was responsible for the United States Army Intelligence and Security Command (INSCOM), during which time the remote viewing project in the US Army began. Some commentators have confused a "Project Jedi", allegedly run by Special Forces primarily out of Fort Bragg, with Stargate. After some controversy involving these experiments, including alleged security violations from uncleared civilian psychics working in Sensitive Compartmented Information Facilities (SCIFs), Major General Stubblebine was placed on retirement. His successor as the INSCOM commander was Major General Harry Soyster, who had a reputation as a much more conservative and conventional intelligence officer. MG Soyster was not amenable to continuing paranormal experiments and the Army's participation in Project Stargate ended during his tenure.[9]
David Morehouse
In his book, Psychic Warrior: Inside the CIA's Stargate Program : The True Story of a Soldier's Espionage and Awakening (2000, St. Martin's Press, ISBN 978-1902636207), Morehouse claims to have worked on hundreds of Remote Viewing assignments, from searching for a Soviet jet that crashed in the jungle carrying an atomic bomb, to tracking suspected double agents.[31]
Joseph McMoneagle
McMoneagle claims he had a remarkable memory of very early childhood events. He grew up surrounded by alcoholism, abuse and poverty. As a child, he had visions at night when scared, and began to hone his psychic abilities in his teens for his own protection when he hitchhiked. He enlisted to get away. McMoneagle became an experimental remote viewer while serving in U.S. Army Intelligence.[9]
Ed Dames
Dames was one of the first five Army students trained by Ingo Swann through Stage 3 in coordinate remote viewing.[32] rather than a remote viewer, Dames received no further formal remote viewing training. After his assignment to the remote viewing unit at the end of January 1986, he was used to "run" remote viewers (as monitor) and provide training and practice sessions to viewer personnel. He soon established a reputation for pushing CRV to extremes, with target sessions on Atlantis, Mars, UFOs, and aliens. He is a frequent guest on the Coast to Coast AM radio shows.[33]
Because Dames' role was intended to be as session monitor and analyst as an aid to Fred Atwater
See also
References
Marks, David. (2000). The Psychology of the Psychic (2nd Edition). Buffalo, NY: Prometheus Books. pp. 71–96. ISBN 1-57392-798-8
Atwater, F. Holmes (2001), Captain of My Ship, Master of My Soul: Living with Guidance; Hampton Roads Publishing Company
Weeks, Linton (December 4, 1995). "Up Close & Personal With a Remote Viewer: Joe McMoneagle Defends the Secret Project". The Washington Post. p. B1. ISSN 0190-8286.
Mumford, Michael D.; Rose, Andrew M.; Goslin, David A. (September 29, 1995). An Evaluation of Remote Viewing: Research and Applications

(PDF)

(Report). The American Institutes for Research – via Federation of American Scientists. [R]emote viewings have never provided an adequate basis for 'actionable' intelligence operations—that is, information sufficiently valuable or compelling so that action was taken as a result.
Heard, Alex (10 April 2010), "Close your eyes and remote view this review", Union-Tribune San Diego, Union-Tribune Publishing Co. [Book review of The Men Who Stare at Goats]: "This so-called "remote viewing" operation continued for years, and came to be known as Star Gate."
Clarke, David (2014), Britain's X-traordinary Files, London: Bloomsbury Publishing, p. 112.: "The existence of the Star Gate project was not officially acknowledged until 1995… then became the subject of investigations by journalists Jon Ronson [etc]… Ronson's 2004 book, The Men Who Stare at Goats, was subsequently adapted into a 2009 movie…"
Shermer, Michael (November 2009), "Staring at Men Who Stare at Goats" @ Michaelshermer.com.:"… the U.S. Army had invested $20 million in a highly secret psychic spy program called Star Gate. … In The Men Who Stare at Goats Jon Ronson tells the story of this program, how it started, the bizarre twists and turns it took, and how its legacy carries on today."
Krippner, Stanley and Harris L. Friedman (2010), Debating Psychic Experience: Human Potential Or Human Illusion?, Santa Barbara, CA: Praeger/Greenwood Publishing Group, p. 154: "The story of Stargate was recently featured in a film based on the book The Men Who Stare at Goats, by British investigative journalist Jon Ronson (2004)".
McMoneagle, Joseph (2006). Memoirs of a psychic spy : the remarkable life of U.S. Government remote viewer 001. Charlottesville, VA: Hampton Roads Pub. Co. ISBN 978-1-5717-4482-1.
McMoneagle, Joseph (1998). The ultimate time machine : a remote viewer's perception of time and predictions for the new millennium. Charlottesville, VA: Hampton Roads Pub. Co. ISBN 978-1-5717-4102-8.
Pike, John (December 29, 2005). "Star Gate [Controlled Remote Viewing]". Federation of American Scientists.
Interview, Ray Hyman, in An Honest Liar, a 2014 documentary film by Left Turn Films; Pure Mutt Productions; Part2 Filmworks. (The quoted remarks commence at 21 min, 45 sec.)
Jacobsen, Annie (2017). "Paraphysics". Phenomena: The Secret History of the U.S. Government's Investigations into Extrasensory Perception and Psychokinesis. Little, Brown. ISBN 978-0-316-34937-6.
"The Evidence for Psychic Functioning: Claims vs. Reality" by Ray Hyman; Skeptical Inquirer, Vol. 20.2, Mar/Apr 1996.
"Remotely Viewed? The Charlie Jordan Case" by Joe Nickell; Skeptical Inquirer, Vol. 11.1, Mar 2001.
Waller, Douglas (December 11, 1995). "The Vision Thing". Time magazine. p. 45. Archived from the original on February 9, 2007.
"Search: 'Stargate'". Freedom of Information Act Electronic Reading Room. Central Intelligence Agency.
McMoneagle, Joseph (1997). Mind trek : exploring consciousness, time, and space through remote viewing (Revised ed.). Norfork, VA: Hampton Roads Pub. p. 247. ISBN 978-1-8789-0172-9.
Popkin, Jim (November 12, 2015). "Meet the former Pentagon scientist who says psychics can help American spies". Newsweek.
Pilkington, Mark (June 5, 2003). "The remote viewers". The Guardian.
"Fort Meade, Maryland, where psychics gathered to remotely spy on the U.S. Embassy in Iran during the hostage crisis". Miami Herald.
Nickell, Joe (March 2001). "Remotely viewed? The Charlie Jordan case". Skeptical Inquirer. Vol. 11, no. 1.
"Dr. Harold Puthoff". arlingtoninstitute.org. The Arlington Institute. 2008. Archived from the original on March 3, 2013.
"Interview: A New Biopic Charts the Life of Ingo Swann, the 'Father of Remote Viewing'". Outerplaces.com. Archived from the original on April 29, 2018. Retrieved

April 28,

2018.
"An Interview with Indo Swann". The Wise Old Goat – The Personal Website of Michel Snoeck. Retrieved

April 28,

2018.
"An Outsider's Remote View of All Things: Ingo Swann". Chelseanow.com. Archived from the original on April 29, 2018. Retrieved

April 28,

2018.
"A Dynamic PK Experiment with Ingo Swann". Central Intelligence Agency. Archived from the original on April 29, 2018. Retrieved

April 28,

2018.
Pat Price URL:http://www.scientolipedia.org/info/Pat_Price (Scientolipedia)

Sources:

Schnabel, Jim (1997) Remote Viewers: The Secret History of America's Psychic Spies Dell, 1997 , ISBN 0-440-22306-7
Richelson, Jeffrey T The Wizards of Langley: Inside the CIA's Directorate of Science and Technology
Mandelbaum, W. Adam The Psychic Battlefield: A History of the Military-Occult Complex
Picknett, Lynn, Prince Clive The Stargate Conspiracy
Chalker, Bill Hair of the Alien: DNA and Other Forensic Evidence of Alien Abductions
Constantine, Alex Psychic Dictatorship in the USA

"Psychic Warrior: Inside the CIA's Stargate Program: The True Story of a Soldier's Espionage and Awakening". Publishers Weekly. Retrieved

April 28,

2018.
"Stargate: People and researchers". Bibliotecapleyades.net.
Further reading
These are the steps that the The Public must demand in order to strengthen public integrity by eliminating corrupt financial conflicts in Congress. These "Big Tech Gorilla" abusers steal technology because they can steal technology. They buy politicians, lobbyists and shill reporters to help them get away with it.
Congress must be ordered, by the voters, to eliminate both the appearance and the potential for financial conflicts of interest. Americans must be confident that actions taken by public officials are intended to serve the public, and not those officials. These actions counter-act the corrupt actions taken by tech oligarchs officials in illicit coordination with U.S. Senators.
Small business has experienced all of the damages from each of the abuse-of-power issues listed below. Your public officials are being paid BRIBES through their family stock market holdings. We asked every office of Congress what the worst of the problems are and this is what they told us, below.

CUT THEM OFF – Demand that Congress make it a felony for any politician, judge or regulator to own stocks, or to let their family own stocks. If they want to get rich, they can go into another line of work.
If the public can get these laws made, it will end 90% of American corruption. Politicians won't allow these laws to be made because it will cut off their corruption. Thus: You have to force the politicians to make these laws and leverage them with investigations and recall elections.
These are the actions needed to resolve this corruption:
Ban individual stock ownership by Members of Congress, Cabinet Secretaries, senior congressional staff, federal judges, White House staff and other senior agency officials while in office. Prohibit all government officials from holding or trading stock where its value might be influenced by their agency, department, or actions.
Apply conflict of interest laws to the President and Vice President through the Presidential Conflicts of Interest Act, which would require the President and the Vice President to place conflicted assets, including businesses, into a blind trust to be sold off
Require senior Department of Energy government officials, employees, contractors and White House staff to divest from privately-owned assets that could present conflicts, including large companies like Tesla, Google, Facebook, Sony, Netflix, etc., and commercial real estate.
Make it a felony to not respond to a filing by a citizen within 48 hours. Former White House and Energy Department staff use 'stone-walling' to intentionally delay responses for a decade, or more.
Apply ethics rules to all government employees, including unpaid White House staff and advisors.
Require most executive branch employees to recuse from all issues that might financially benefit themselves or a previous employer or client from the preceding 4 years.
Create conflict-free investment opportunities for federal officials with new investment accounts managed by the Federal Retirement Thrift Investment Board and conflict-free mutual funds.
Close and lock the Revolving Door between industry and government and stop tech companies from buying influence in the government or profiting off of the public service of any official.
Lifetime ban on lobbying by Presidents, Vice Presidents, Members of Congress, federal judges, and Cabinet Secretaries; and, multi-year bans on all other federal employees from lobbying their former office, department, House of Congress, or agency after they leave government service until the end of the Administration, but at least for 2 years ( and at least 6 years for corporate lobbyists).
Limit the ability of companies to buy influence through former government officials.
Require income disclosures from former senior officials 4 years after federal employment.
Prohibit companies from immediately hiring or paying any senior government official from an agency, department, or Congressional office recently lobbied by that company.
Prohibit the world's largest companies, banks, and monopolies (measured by annual revenue or market capitalization) from hiring or paying any former senior government official for 4 years after they leave government service.
Limit the ability of companies to buy influence through current government employees.
Prohibit current lobbyists from taking government jobs for 2 years after lobbying; 6 years for corporate lobbyists. Public, written waivers where such hiring is in the national interest are allowed for non-corporate lobbyists only.
Prohibit corporate outlaws like Google, Tesla, Facebook, Linkedin, Netflix, Sony, etc., from working in government by banning the hiring of top corporate leaders whose companies were caught breaking federal law in the last 6 years.
Prohibit contractor corruption by blocking federal contractor and licensee employees from working at the agency awarding the contract or license for 4 years.
Ban "Golden Parachutes" that provide corporate bonuses to executives for federal service.
Publicly expose all influence-peddling in Washington.
Strengthen and expand the federal definition of a "lobbyist" to include all individuals paid to influence government.
Create a new "corporate lobbyist" definition to identify individuals paid to influence government on behalf of for- profit entities and their front-groups.
Radically expand disclosure of lobbyist activities and influence campaigns by requiring all lobbyists to disclose any specific bills, policies, and government actions they attempt to influence; any meetings with public officials; and any documents they provide to those officials.
End Influence-Peddling by Foreign Actors such as that which occurred in the ENER1, Severstal, Solyndra and related scandals.
Fire the Fed officials that own, trade and pump stocks using the Fed itself for profiteering.
The most senior officials in the U.S. Government are the worshipers of Elon Musk, investor's in Elon Musk's companies and suppliers, deciders of the financing for Elon Musk, suppliers of staffing to Elon Musk, recipients of political campaign financing by Elon Musk and Musk's covert Google And Facebook partnership, social friends of Elon Musk and the attackers of Elon Musk's competitors. Make this a felony.
Combat foreign influence in Washington by banning all foreign lobbying.
End foreign lobbying by Americans by banning American lobbyists from accepting money from foreign governments, foreign individuals, and foreign  companies to influence United States public policy.
Prohibit current lobbyists from taking government jobs for 2 years after lobbying; 6 years for corporate lobbyists. Public, written waivers where such hiring is in the national interest are allowed for non-corporate lobbyists only.
End Legalized Lobbyist Bribery and stop lobbyists from trading money for government favors.
Ban direct political donations from lobbyists to candidates or Members of Congress.
End lobbyist contingency fees that allow lobbyists to be paid for a guaranteed policy outcome.
End lobbyist gifts to the executive and legislative branch officials they lobby.
Strengthen Congressional independence from lobbyists and end Washington's dependence on
lobbyists for "expertise" and information.
Make congressional service sustainable by transitioning Congressional staff to competitive salaries that track other federal employees.
Reinstate the nonpartisan Congressional Office of Technology Assessment to provide critical scientific and technological support to Members of Congress.
Level the playing field between corporate lobbyists and government by taxing excessive lobbying beginning at $500,000 in annual lobbying expenditures, and use the proceeds to help finance Congressional mandated rule-making, fund the National Public Advocate, and finance Congressional support agencies.
De-politicize the rulemaking process and increase transparency of industry efforts to influence federal agencies.
Require individuals and corporations to disclose funding or editorial conflicts of interest in research submitted to agencies that is not publicly available in peer-reviewed publications.
Prevent McKinsey-type sham research from undermining the public interest by requiring that studies that present conflicts of interest to undergo independent peer review to be considered in the rule-making process.
Require agencies to justify withdrawn public interest rules via public, written explanations.
Close loopholes exploited by powerful corporations like Google, Facebook, Tesla, Netflix, Sony, etc., to block public interest actions.
Eliminate loopholes that allow corporations, like Tesla and Google, to tilt the rules in their favor and against the public interest.
Restrict negotiated rule-making to stop industry from delaying or dominating the rule-making process by ending the practice of inviting industry to negotiate rules they have to follow.
Restrict inter-agency review as a tool for corporate abuse by  banning informal review, establishing a maximum 45-day review period, and blocking closed -door industry lobbying at the White House's Office of Information and Regulatory Affairs.
Limit abusive injunctions from rogue judges, like Jackson, et al, by ensuring that only Appeals Courts, not individual District Court judges , can temporarily block agencies from implementing final rules.
Prevent hostile agencies from sham delays of implementation and enforcement by using the presence of litigation to postpone  the implementation of final rules.
Empower the public to police agencies for corporate capture.
Increase the ability of the public to make sure their interests are considered when agencies act.
Create a new Office of the Public Advocate  empowered to assist the public in meaningfully engaging in the rule-making process across the federal government.
Encourage enforcement by allowing private lawsuits from members of the public to hold agencies accountable for failing to complete rules or enforce the law, and to hold corporations accountable for breaking the rules.
Inoculate government agencies against corporate capture such as Google undertook against the White House.
Provide agencies with the tools and resources to implement strong rules that reflect the will of Congress and protect the public.
Boost agency resources to level the playing field between corporate lobbyists and federal agencies by using the proceeds of the tax on excessive lobbying and the anti-corruption penalty fees to help finance Congress-mandated rule-making and facilitate decisions by agencies that are buried in an avalanche of lobbyist activity.
Reform judicial review to prevent corporations from gaming the courts by requiring courts to presumptively defer to agency interpretations of laws and prohibiting courts from considering sham McKinsey studies and research excluded by agencies from the rule-making process.
Reverse the Congressional Review Act provision banning related rules that prevent agencies from implementing the will of Congress based on Congress' prior disapproval of a different, narrow rule on a similar topic.
Improve judicial integrity and defend access to justice for all Americans.
Strengthen Judicial Ethics Requirements.
Enhance the integrity of the judicial branch by strengthening rules that prevent conflicts of interest.
Ban individual stock ownership by federal judges.
Expand rules prohibiting judges from accepting gifts or payments to attend private seminars from private individuals and corporations.
Require ethical behavior by the Supreme Court by directing the Court to follow the Code of Conduct that binds all other federal judges.
Boost the transparency of Federal Courts.
Enhance public insight into the judicial process by increasing information about the process and reducing barriers to accessing information.
Increase disclosure of non-judicial activity by federal judges by requiring the Judicial Conference to publicly post judges' financial reports, recusal decisions, and speeches.
Enhance public access to court activity by mandating that federal appellate courts live-stream, on the web, audio of their proceedings, making case information easily-accessible to the public free of charge, and requiring federal courts to share case assignment data in bulk.
Eliminate barriers that restrict access to justice to all but the wealthiest individuals and companies.
Reduce barriers that prevent individuals from having their case heard in court by restoring pleading standards that make it easier for individuals and businesses that have been harmed to make their case before a judge.
Encourage diversity on the Federal Bench.
Strengthen the integrity of the judicial branch by increasing the focus on personal and professional diversity of the federal bench.
Create a single, new, and independent agency dedicated to enforcing federal ethics and anti-corruption laws.
Support stronger ethics and public integrity laws with stronger enforcement.
Establish the new, independent U.S. Office of Public Integrity, which will strengthen federal ethics enforcement with new investigative and disciplinary powers.
Investigate potential violations by any individual or entity, including individuals and companies with new subpoena authority.
Enforce the nation's ethics laws by ordering corrective action, levying civil and administrative penalties, and referring egregious violations to the Justice Department for criminal arrest and enforcement.
Receive and investigate ethics complaints from members of the public.
Absorb the U.S. Office of Government Ethics as a new Government Ethics Division tasked with providing confidential advice to federal employees seeking ethics guidance.
Consolidate anti-corruption and public integrity oversight over federal officials, including oversight of all agency Inspectors General, all ethics matters for White House staff and agency heads, and all waivers and recusals by senior government officials.
Remain independent and protected from partisan politics through a single Director operating under strict selection, appointment, and removal criteria.
Provide easy online access to key government ethics and transparency documents, including financial disclosures; lobbyist registrations; lobbyist disclosures of meetings and materials; and all ethics records, recusals, and waivers.
Maintain a new government-wide Office of the Public Advocate, which would advocate for the public interest in executive branch rule-making.
Enforce federal open records and FOIA requirements by maintaining the central FOIA website and working with the National Archives to require agencies to comply with FOIA.
Strengthen legislative branch enforcement.
Expand an independent and empowered ethics office insulated from congressional politics.
Expand and empower the U.S. Office of Congressional Ethics, which will enforce the nation's ethics laws in the Congress  and the entire Legislative Branch, including the U.S. Senate.
Conduct investigations of potential violations of ethics laws and rules by Members of Congress and staff with new subpoena power.
Refer criminal and civil violations to the Justice Department, the Office of Public Integrity, or other relevant state or federal law enforcement.
Recommend disciplinary and corrective action to the House and Senate Ethics Committees.
Boost transparency in government and fix Federal Open Records laws, public official and candidate tax disclosure.
Disclose basic tax return information for candidates for federal elected office and current elected officials.
Require the IRS to release tax returns for Presidential and Vice-Presidential candidates from the previous 8 years and during each year in federal elected office.
Require the IRS to release t ax returns for Congressional candidates from the previous 2 years and during each year in federal elected office.
Require the IRS to release tax returns and other financial information of businesses owned by senior federal officials and candidates for federal office.
Require the IRS to release tax filings for nonprofit organizations run by candidates for federal office.
Disclose the Cash behind Washington Advocacy and Lobbying.
Prevent special interests from using secret donations from corporations and billionaires to influence public policy  without disclosure.
Require nonprofit organizations to list donors who bankrolled the production of any specific rule-making comment, congressional testimony, or lobbying material, and to reveal whether the donors reviewed or edited the document.
Require individuals and corporations to disclose funding or editorial conflicts of interest in research submitted to agencies that is not publicly available in peer-reviewed publications.
Prevent sham research, like that from DNC shill McKinsey Consulting, from undermining the public interest by requiring that studies that present conflicts of interest to independent peer review to be considered in the rule-making process.
Improve the Freedom of Information Act (FOIA).
Close the loopholes in our open records laws that allow federal officials to hide tech industry and Silicon Valley oligarch industry influence.
Codify the default presumption of disclosure and affirmatively disclose records of public interest, including meeting agendas; government contracts; salaries; staff diversity; and reports to Congress.
Require all agencies to use a central FOIA website that is searchable and has downloadable open records databases with  all open FOIA requests and all records disclosed through FOIA.
Strengthen FOIA enforcement by limiting FOIA exemptions and loopholes, and by giving the National Archives the authority to overrule agency FOIA decisions and to compel disclosure.
Extend FOIA to private-sector federal contractors, including private federal prisons and immigration detention centers, and require large federal contractors to disclose political spending.
Make Congress more transparent by ending the corporate lobbyists leg up in the legislative process. The public deserves to know what Congress is up to and how lobbyists influence legislation.
Require all congressional committees to immediately post online more information, including hearings and markup schedules, bill or amendments text, testimonies, documents entered into the hearing record, hearing transcripts, written witness answers, and hearing audio and video recordings.
Require Members of Congress to post a link to their searchable voting record on their official websites.
Require lobbyists to disclose when they lobby a specific congressional office; specific topics of visit; the official action being requested; and all documents provided to the office during the visit.
Do these seem like common-sense rules that should have already been in place? They are!
These anti-corruption rules have been blocked by your own public officials because they work for themselves and not you!
News And Reports:
Report: Over 131 Federal Judges Broke The Law by Hearing Cases Where They Had A Financial Interest
https://www.businessinsider.com/congress-stock-act-violations-senate-house-trading-2021-9
congressional stock report lobbying federal government 4×3 … $200 is the standard amount — or waived by House or Senate ethics officials.
https://news.bloomberglaw.com/us-law-week/why-members-of-congress-should-not-trade-stocks
Insider trading is a felony, but it is also difficult to prove. In 2012 Congress passed the Stop Trading on Congressional Knowledge Act (STOCK …
https://www.closeup.org/should-members-of-congress-be-banned-from-trading-stocks/
They're also the ones in charge of creating federal policy. The STOCK Act prohibits members of Congress from buying or selling stock on the …
https://www.opensecrets.org/news/2022/04/members-of-congress-increasingly-receptive-to-stock-trading-ban/
Members of Congress may soon be barred from trading stocks while in office as bipartisan support for a stock trading ban continues to grow.
https://www.ny1.com/nyc/all-boroughs/news/2022/01/21/lawmakers-stock-trading-ban-legislation-hawley-ossoff-pelosi
The bill itself does not ban members of Congress from trading stocks, but requires certain government officials – like lawmakers, the president …
https://www.nytimes.com/2022/02/18/opinion/congress-stock-trading-ban.html
It has been a decade since Congress last made a significant effort at policing itself in this area. The Stock Act of 2012, among other measures, …
https://www.theatlantic.com/politics/archive/2022/01/congress-stock-trading-ban/621402/
Yet the supporters of a ban on lawmaker stock trading still have a ways to go. Public support for a bill can mask broader private opposition, …
https://www.cnbc.com/2022/02/09/congress-moves-towards-banning-members-from-trading-stocks.html
After months of resistance, House Speaker Nancy Pelosi has greenlighted a plan to ban members of Congress fromtrading stock, CNBC confirmed …
Places Where You Can Research Ant-Corruption Tools:
http://www.majestic111.com
http://vcracket.weebly.com
https://www.transparency.org

https://wikileaks.org
https://causeofaction.org

http://peterschweizer.com/
http://globalinitiative.nethttps://fusion4freedom.com/the-green-corruption-files-archive/
https://propublica.org
https://www.allsides.com/unbiased-balanced-news
http://wearethenewmedia.com
http://ec.europa.eu/anti_fraud/index_en.html
http://gopacnetwork.org/
http://www.iaaca.org/News/
http://www.interpol.int/Crime-areas/Corruption/Corruption
http://www.icac.nsw.gov.au/
http://www.traceinternational.org/
http://www.oge.gov/
https://ogc.commerce.gov/

http://www.anticorruptionintl.org/

http://www.giaccentre.org/dealing_with_corruption.php
http://www.acfe.com/
https://www.oas.org/juridico/english/FightCur.html
https://www.opus.com/international-anti-corruption-day-businesses/
https://www.opengovpartnership.org/theme/anti-corruption
https://www.ethicalsystems.org/content/corruption
https://sunlightfoundation.com/
http://www.googletransparencyproject.org/
http://xyzcase.weebly.com
https://en.wikipedia.org/wiki/Angelgate
https://www.opensecrets.org/
https://en.wikipedia.org/wiki/High-Tech_Employee_Antitrust_Litigation
http://www.projectveritasaction.com